---
Wheat Flags
Influence on wheat prices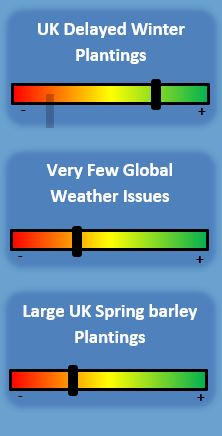 19/11/2019
The primary UK price driver remains wet weather with widespread heavy rainfall and even flooding for some areas. Winter crop plantings are still well behind schedule and significant cuts to the area are currently expected. Early production estimates for wheat vary wildly with anything from 11mt–14Mmt which would be significantly lower than the current seasons 16.3Mmt crop. However, with the huge variability in planting progress it's very difficult to estimate accurately and the trade will have to wait before getting a better idea of what the eventual crop size will be.
If the UK wheat crop is indeed as small as some estimates suggest we'll become a net importer again in 2020. From a price perspective, UK values have already made a significant move against other origins to factor in the prospect of imports. For the time being, there is little reason to see further upside without support from global values. No matter what happens with the weather, import prices will put a ceiling in any potential price rise.
Spring seed sales have seen a significant uptick as farmers look for an alternative to winter crops. As a result, the spring barley area for next season is expected to increase year on year with the potential for another big barley crop. This has already impacted on the discount barley is trading to wheat as sellers look to pre-empt next seasons barley surplus. Malting premiums have also been reduced as many of the spring varieties will be approved for malting.
International markets are lacking any real market moving news. Weather of course remains a key driver but there are not really any global issues of the same scale that we are experiencing in the UK. French planting is similarly behind pace but nowhere near to the same extent as us. Australian harvesting is underway with early yield results proving to be better than anticipated. Some forecasters are starting to lift their production estimates but there is still a long way to go. Following last week's very cold dry conditions, US weekly wheat crop ratings fell 2% to 52% GD/EX against 56% last year, whilst plantings were 95% complete (92% last year, 95% average), with 83% emerged (80% and 86% respectively).
UK old crop export competitiveness has been hit by the strength in new crop prices. Also, Sterling has firmed to circa 1.17 v's the Euro due to the increasing confidence in a conservative majority in the forthcoming election. Therefore, fresh export trade since the latest Brexit extension was granted has been minimal.
---