With the dry weather limiting quantity and quality of first and second cut grass this year, getting the most out of wholecrop wheat, barley and rye will be doubly important in 2020, says Jim Juby of Horizon Seeds.
Growers need to take particular care with clamp management to minimise losses and take advantage of new innovations in covers, oxygen barriers and additives to achieve this, he says.
"Feed of all types will be in short supply this year, due to the cold spring limiting early grass growth and then the May drought.
"Wholecrop is being undertaken in many parts of the country following wet maize harvest last year with some farms producing it for the first time so there are some basic rules to follow to make this a successful exercise.
"Wholecrop is the hardest forage to make since the plant is senescing when it is harvested and contains high populations of bacteria, yeasts and moulds on the leaves surfaces that can affect the fermentation process.
"Growers often reduce or omit the T3 fungicide exacerbating the issue to keep costs down. High levels of yeasts and moulds have the potential to grow rapidly in the clamp if conditions aren't right. This can result in significant losses in energy and yield.
Time the harvest correctly
Understanding the optimum time to harvest and the narrowness of the window for this is important, he says.
"The first stage is to make sure you are harvesting at the right time.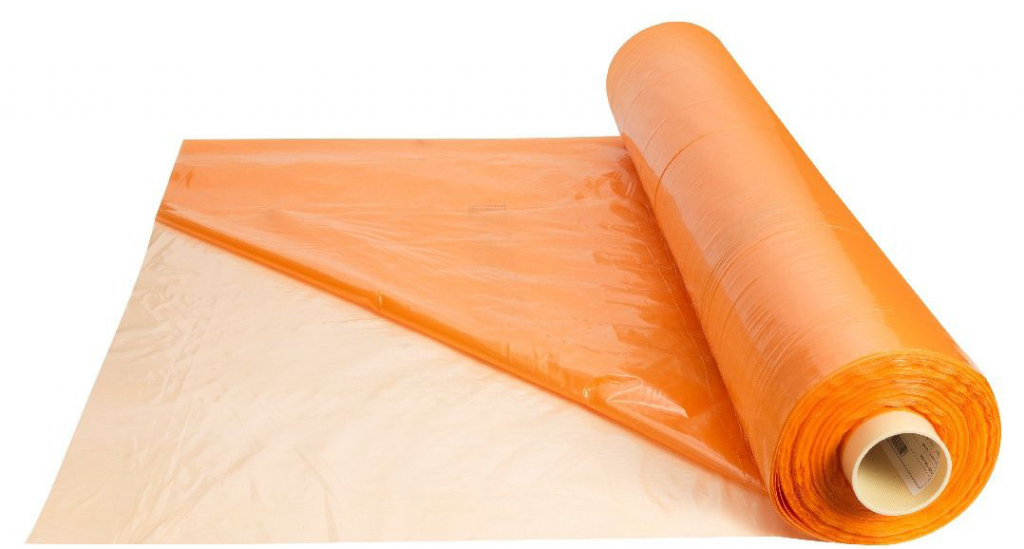 You then need to make sure any losses are not multiplied through poor clamp management or taking short cuts with ensiling, Jum Juby advises.
"Some of the biggest losses are likely to occur at clamping and during the first few weeks of the fermentation process, but these can be avoided.
"Whilst the use of clingfilm under conventional black Polyethylene has helped improve preservation of silage generally in recent years, it's not the most efficient system these days.
"Plus many producers are increasingly concerned about the environmental impact of using plastics."

Optimise clamp performance with Silostop

Use of true oxygen barrier films can reduce wastage to ensure more of the energy clamped is available for production, but new thinner films can take this a step further, he adds.
"Sticking with traditional 125 micron (500 gauge) black plastic with 40 micron (160 gauge) cling film on a typical 20 x 35m clamp will result in about 95kg of plastic used whereas with the thinner 80 micron (320 gauge) oxygen barrier Silsostop Max this will be reduced to just 58kg.
"Independent trials have shown that 25% of crop dry matter can be lost between harvest and feed-out so it's well worth investing in appropriate technology to avoid this."
"This would be a good option for wholecrop clamping as its been proven to work well for multi-cut grass allowing the sheet to be taken off and on the pit 5 or 6 times with no damage."
"Going a stage further, you can invest in a new SupaCova Pro UV which can be used with the ultra-thin 45microns (180 gauge) Silostop Orange film.
"The SupaCova Pro UV weighs 250g/m2 which holds the Orange oxygen barrier sheet in place, with a weight of just 34Kg for the film on a 20 x 35m clamp.
"This is around a third of the weight for conventional black polythene and cling film and the Supacova will last for about 10 years.
"The SupaCova provides 95% shading compared to conventional nets which give only 55% shading so potential UV breakdown of the oxygen barrier is minimised, whilst birds and rodents will be stopped from damaging it.
"In addition, all Silostop films can be recycled using normal farm plastic collection services."

Choose the right clamp additive

Jim Juby also recommends the use of a suitable clamp additive to guarantee optimum fermentation.
"Making high DM wholecrop silage to increase intakes can make consolidation harder and using an additive will ensure the ensiling process works to best effect and feed quality is maintained.
"Oxygen ingress lies behind most bad wholecrop silages both in the fermentation process, on the clamp face, during feedout and in the trough.
"Silosolve FC has a unique oxygen-scavenging bacteria, Lactococcus lactis (O-224), which will make the clamp anaerobic within 24 hours of sealing compared to the normal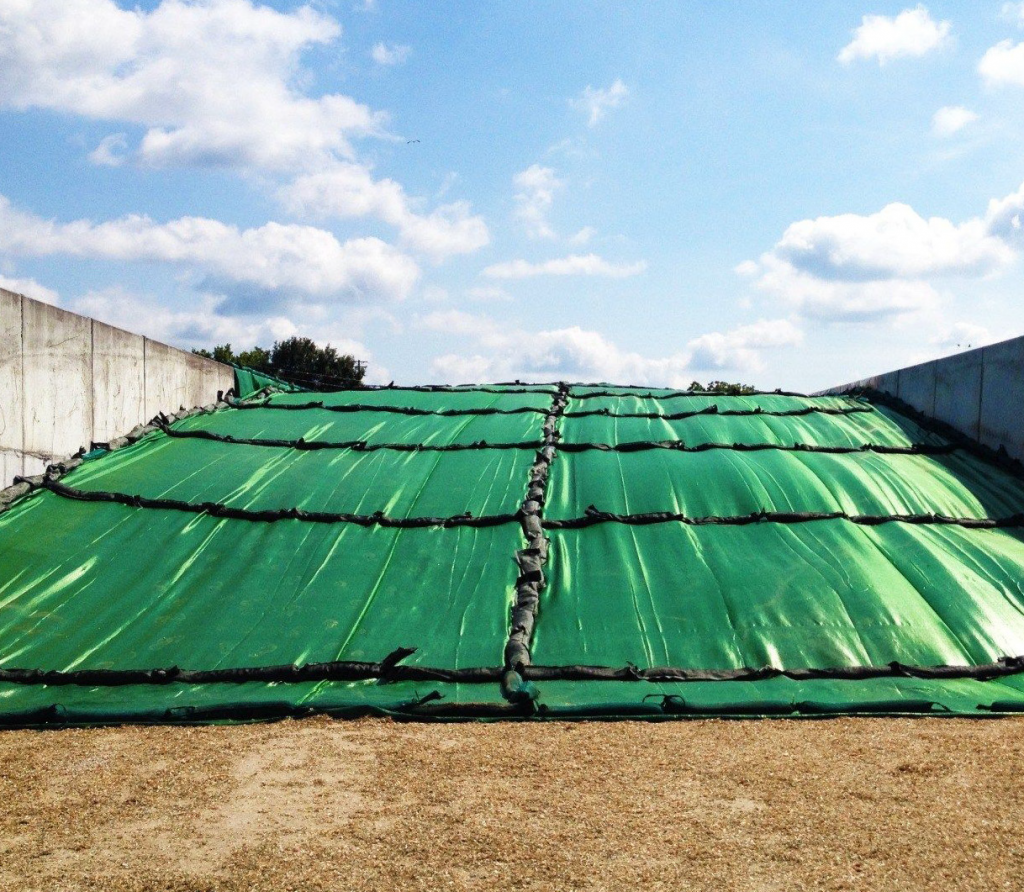 "Too high a drymatter quickly reduces the compactability of the clamp and increases the oxygen content in it."
Aim for a dry matter of 35 – 40% – when grain has a 'soft cheese' texture to it – and then use the right equipment to achieve a chop length of around 50mm and grains that are broken open so the starch is exposed.
"During hot windy weather crop dry matters can increase rapidly to over 50% with the weather window being as little as just 4-5 days before the crop goes from cheesey ripe to too dry.
"Too higher drymatter quickly reduces the compactability of the clamp and increases the oxygen content in it. This extra oxygen all has to be utilised by the microbes in the clamp increasing the length of time before the clamp becomes stable."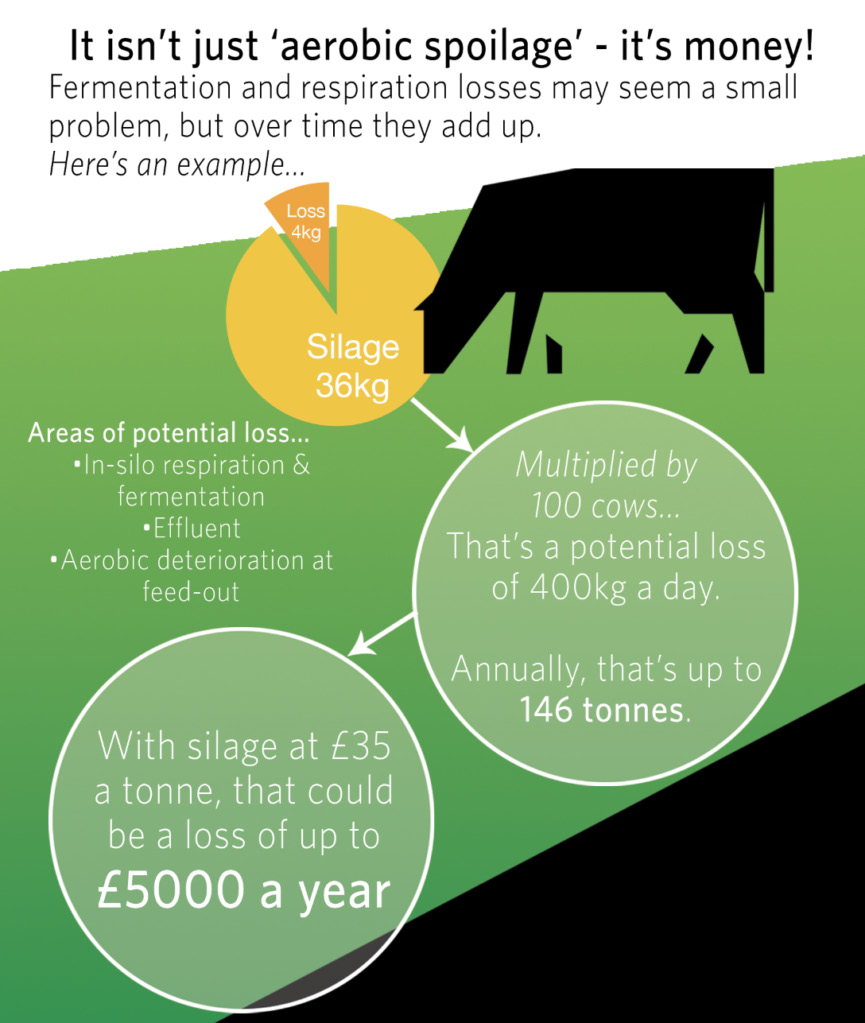 2-3 weeks using natural fermentation.
"These bacteria also prevent heating and the growth of mirco-organisms on the clamp face and in the trough ensuring feed stays fresh for at least 72 hours.
"Water is the only bi-product of the enhanced fermentation achieved with the O-224 bacteria whilst other bacterial additives produce CO², ethanol and other bi products which can affect silage palatability."
"A well fermented wholecrop is an excellent feed whilst high dry matter wholecrop is straw with grains in it."
Care with harvest and ensiling provides vital insurance when every kg of feed is important and also allows you to open the clamp earlier which, again, could be valuable this year, he adds.
"Independent trials have shown that 25% of crop dry matter can be lost between harvest and feed-out so it's well worth investing in appropriate technology to avoid this – particularly when feed shortages are likely."
Can wholecrop help reduce blackgrass?

There are many crops of winter wheat which didn't receive an autumn grass herbicide due to the wet conditions last year and have subsequently struggled with high populations of blackgrass seed heads emerging from the crop, Jim Juby points out.
"Blackgrass seed doesn't become viable until after it flowers so taking the crop as early wholecrop can provide a good forage instead of burning off the wheat crop with herbicides.
"The ensiling process and heating up in a farmyard manure heap would also reduce the viability of any blackgrass seed."
For more information contact Jim Juby, Horizon Seeds Ltd., Unit 3, Airfield Industrial Park, Langton Green, Eye, Suffolk.
Tel: 01379 871073. www.horizonseeds.co.uk