Ammonium Nitrate
As was discussed in last weeks' Fertiliser Focus as a possibility, became a reality as the UK producers eventually decided to reduce the prices of Ammonium Nitrate and Nitrogen Sulphur Grades. Prices fell between £ 16 – 25 per tonne depending on the grade. The size of the drop, and the fact that only prices for January have been published, may suggest that this could be a short term blip, designed to kick start a market which at best can be described as moribund for the last four months. With only 15 working days left in January this move is likely to have generated enough orders to see them through to the end of the month. If that is the case it gives an opportunity for the manufacturers to possibly start edging the price back up. Where next then for UK Ammonium Nitrate?
UK Ammonium Nitrate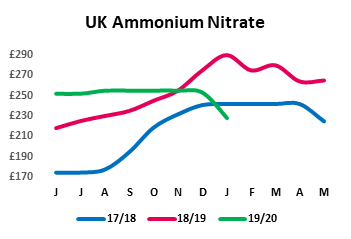 Phosphates
Phosphate prices are at the lowest level seen for many years. No phosphate products are manufactured in the UK so we can at times be at mercy to global markets, but at times of massive over-supply as we are currently seeing we can benefit. Trade wars between US and China, plus swine flu affecting pig production also in China which in turn has hit demand for animal feed and hence the fertilisers to grow it, have all been used to explain the situation. As always however, over supply usually leads to production cutbacks and that is already being reported from US producers, with North African businesses set to follow. However the impact of any cut-backs will take a while to filter through so now is a perfect opportunity to take advantage, and this spring could be ideal with any winter-sown crops going to need a boost, plus later drilled and spring crops will also need to get away quickly DAP 18N 46P is ideal with amazing value nitrogen and the phosphate to get these crops going.
Urea
As one of the most volatile products in the fertiliser industry, the urea market is stable currently despite other products areas dropping dramatically. Usage in northern Europe is just around the corner and good demand is being seen as a result. Tensions in the Gulf region will not support a bearish attitude on price going forward, from what is an important region for global Urea production.
Economic Data as at close on Friday 10th January v (3rd January 2020) £ = $1.3059 ($ 1.3082) £ = € 1.1747 (€ 1.1719) Crude Oil = $ 65.51 ($ 68.75) Natural Gas = $2.22 ($2.12) Please treat pricing on graphs as a guide, please use quote request form for an up to date price.