Urea
As expected, India did not buy the full 1M tonnes in the latest tender. Reports are 750K was purchased which sparked rumours of a further tender at the end of April or early May. Further demand is needed in India so that theory would make sense.
Ammonium Nitrate
At the time of writing CF were expected to withdraw terms, this may be purely an exercise to take stock of current positions prior to the Easter Break. Logistics from both CF & Yara have been excellent considering the situation looked very difficult three or four weeks ago as hauliers were being pulled into work for distribution centres at the start of the consumer panic buying phase of the Covid-19 crisis.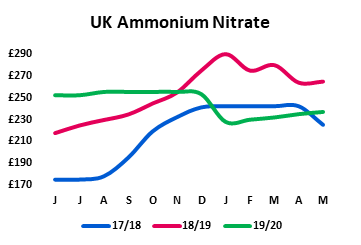 Updated RB209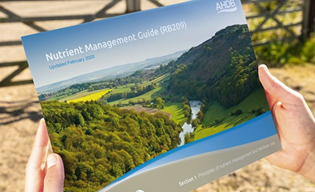 In February AHDB published an updated version of The Nutrient Management Guide (RB209) the changes were first announced in September 2019, this is now the chance to see the changes in publication. In summary there are changes to Sections 1 (Principles of nutrient management and fertiliser use) where there is updated guidance on soil and plant testing, target soil indices and phosphate fertilisers. In Section 4 (Arable crops) standard yields for cereals have been adjusted so to remove differences for N P & K recommendations. Phosphate removal in wheat grain has been reduced to 6.5 Kg P2O5/t down from 7.8 Kg P2O5/t, and phosphate and potash recommendations have been updated. Individual sections can be downloaded from https://ahdb.org.uk/rb209 hard copies can be ordered by calling AHDB 0845 245 0009 or by e-mailing publications@ahdb.org.uk

---
Economic Data as at close on Thursday 9th April v (3rd April 2020) £ = $1.2456 ($ 1.2268) £ = € 1.1394 (€ 1.1350) Crude Oil = $ 31.19 ($ 34.11) Natural Gas = $1.77 ($1.62) Please treat pricing on graphs as a guide, please use quote request form for an up to date price.