Urea  
As discussed here in last weeks' edition, the Urea market has observed a period of brinkmanship between buyer and seller. What could not be denied though appears to be India's demand for Urea, and its need for immediate volume. This resulted in India committing 2.1M tonnes against the most recent RCF tender. This will relieve the pricing pressure from the producers' perspective, especially as another tender is expected in early to mid-November. The pressure may start to be applied to buyers more so from a Northern European view as time for shipping starts to become an issue. The end date for shipping this tender is 16th November, this seems very ambitious given a whopping 2.1M tonnes needs to move. So, if the next tender is published around that time, assuming a completion date of mid-December then that starts to cut it very fine indeed for the UK. That is if we wait for all this Indian tender activity to subside and any price 'correction' to happen. Typically, UK Urea demand in the physical sense can start in late January. UK Markets are behind last year, which is a concern as last year was slow due to the wet season, it is widely agreed in the trade that more Urea is needed for the UK which could result in a reality check back to replacement prices soon. This could be an additional £10-15 at this time but could vary up or down slightly depending on currency. Either way reductions from the current prices look unlikely before usage period in early spring 21.
Record Marathon    
Back in September we reported on the news that a small team from ICL Boulby Polyhalite Mine, which produces Polysulphate, along with the British Army Cadets were to attempt to create a Guinness World Record for the deepest ever marathon run underground. The team challenge named 'Beneath The Surface' managed to complete the record on 10th October, which was World Mental Health Day. The name reflects that not all illnesses are visible and many are hidden away beneath the surface. This remarkable feat is even more notable as running 26.2 miles is a challenge in any conditions, but given that this was at 1,400 metres (4,600) feet below the surface where temperatures can get to between 35-40 degrees Celsius and whilst wearing protective equipment is an amazing achievement. You can still support SSFA, the armed forces charity, Young Minds and Frontline Children by donating at:-
https://uk.virginmoneygiving.com/fundraiser-display/showROFundraiserActivities?userUrl=beneaththesurfacemarathon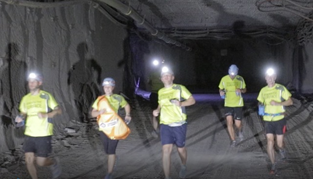 Economic Data as at close on Friday 16th October v (9th October 2020) £ = $1.2924 ($ 1.3008) £ = € 1.1028 (€ 1.1004)   Crude Oil = $ 42.62 ($ 43.32) Natural Gas = $2.77 ($2.76) Please treat pricing on graphs as a guide, please use quote request form for an up to date price.