Nitrogen
Activity in UK Nitrogen markets is subdued as growers battle harvest in the midlands and the north and attempt to get finished in the south. Despite this as we roll into September prices for UK Ammonium Nitrate moved up £2/t. Urea markets are digesting the latest Indian tender, but at the time of writing this does not appear to offer a downward correction to pricing levels.
Phosphate & Potash
Phosphate and Potash are seeing some demand in the UK at present. The focus for discussion now is mainly on Phosphates. Back in January we reported that an over-supply had resulted in the lowest pricing levels seen for several years. We speculated that producers would not continue to manufacture product under those conditions. Over supply usually leads to production cutbacks as those businesses aim to re-balance supply and demand in their favour. There was a reaction to that in early 2020, but lower production costs helped keep the downward pressure on prices in spring 2020. We are now starting to see the re-bound coming as availability from key US producers starts to become a challenge. This impacts on both Triple Super Phosphate (TSP) 46P and Di-Ammonium Phosphate (DAP) 18N 46P, of which the latter has already begun the move up, as can be seen from the chart in the next column. TSP is almost certain to follow this soon.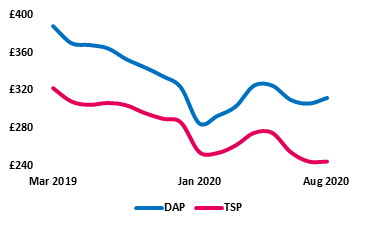 Belarus Unrest
The situation at BPC (Belarus Potash Corporation) is not entirely clear at the present time, however that has not prevented some of the other major Potash producers from reviewing their spot or short-term prices. The global potash market is very concentrated with the four largest producers (BPC; Canadian Nutrien; Russian Uralkali and American Mosaic) accounting for almost two-thirds of total global production. Within this group BPC has around 20% market share. Major importers such as China tend to negotiate long term supply-agreements which sets the tone and price for a period of time. If this unrest is resolved quickly then only those markets that rely on short-term spot type contracts may be affected. Potash prices remain unchanged in the UK for the time being.
---
Economic Data as at close on Friday 28th August v (21st August 2020) £ = $1.3330 ($ 1.3074) £ = € 1.1205 (€ 1.1098) Crude Oil = $ 45.62 ($ 44.22) Natural Gas = $2.68 ($2.35) Please treat pricing on graphs as a guide, please use quote request form for an up to date price.