Urea
Early indications on the MMTC (Metals and Minerals Trading Corporation of India) tender which closed on 17th July, show that again India have not sourced the volume of product that the industry had thought was needed. At the time of writing the estimate was that 700k tonnes had been committed, 1M tonnes was the expectation. This could be brinkmanship on behalf of MMTC, or on the flip side China have either not had the volumes to export, or the netback price FOB China was just too low. UK prices have firmed slightly on the back of this news as North African producers continue to take the opportunity to supply. Currency is not helping keep UK on farm levels down either. Sterling slipped to  $ 1.2516 from a recent high of $1.2747 in June. Look out for more tenders to come soon.
14 Essential Nutrients
The International Fertilizer Association (ifa) the non-profit organisation that represents the global fertiliser industry based in Paris, has produced a useful poster to coincide with the International Year of Plant Health, looking at how all 14 essential plant nutrients benefit plant health. The poster which can be seen in the next column, is available to  download at :
https://www.fertilizer.org/public/resources/publication_detail.aspx?SEQN=5898&PUBKEY=72A2904A-2C9A-4A5E-9696-55E45C60EE12
Yara Oilseed Rape Webinar
The recent series of excellent Yara webinars continued last week with 'Soil Fertility – Is it affecting your grass productivity?' Philip Cosgrave Yara's Grassland Agronomist was joined by Mark Plunkett of Teagasc. Teagasc is the Agriculture and Food development body in Ireland providing  research, advisory and training services to agriculture, food industry and rural communities. Subject matter covered included: Review of national soil analysis results and lime use. Why soil fertility is important on grassland farms. Annual P&K requirements for grass and applying fertiliser evenly. A recording is available, just click the link to register:
https://www.yara.co.uk/crop-nutrition/agronomy-advice/agronomy-webinars/grassland-soil-fertility/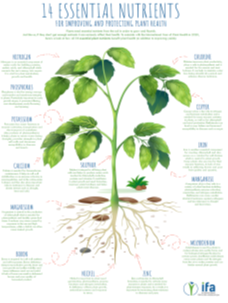 ---
Economic Data as at close on Friday 17th July v (10th July 2020) £ = $1.2539 ($ 1.2649) £ = € 1.0971 (€ 1.1180)   Crude Oil = $ 43.08 ($ 42.65) Natural Gas = $1.74 ($1.83) Please treat pricing on graphs as a guide, please use quote request form for an up to date price.