Urea
Urea markets remain quiet internationally as manufacturers await the next Indian tender which reportedly will be this week. There is some debate that this could be delayed until later in the month. Prices have eased slightly, unfortunately for the UK perspective this has been negated by Sterling / US Dollar exchange rates as discussed last week. Activity in UK markets has picked up recently as growers look to cover some inputs against harvest 2021 grain sales sold into the recent market rally.
Ammonium Nitrate
In contrast to the recent activity seen in the UK Urea market, Ammonium Nitrate markets remained relatively quiet following CF's withdrawal of September terms. Yara still have September terms but this is very likely to be withdrawn this week.
Yara Arable Webinar
Yara's latest Arable Autumn Nutrition Webinar is available to view on demand now as a recording, Jon Telfer – Development Manager, Yara Analytical Services discusses grain analysis and the many useful tests that can be done to help crop nutrition. Natalie Wood – Arable Agronomist for Yara UK & Ireland discussed keeping the momentum going for Oilseed Rape. Also  covered was the effect on Phosphate availability according to soil temperature,                           
Yara Arable Webinar (Cont'd)
as soil temperature drops in the autumn so does the availability of Phosphate. The message being dont wait and see as it may be too late. Then there was a look at P & K for cereals, comparing autumn and spring crop demand, to view go to:-
https://www.yara.co.uk/crop-nutrition/news-and-events/events/2020/autumn-arable-nutrition-webinar/
World Record Marathon Attempt
ICL, operators of Boulby Potash Mine, the deepest mine in the UK, are teaming up with British Army Cadets to raise awareness for mental health by attempting to break a world record together by running a marathon 1000m below surface level on World Mental Health Day. The attempt is being called 'Beneath The Surface' and is being held on 10th October – World Mental Health Day. For more details and to donate go to:-
https://uk.virginmoneygiving.com/fundraiser-display/showROFundraiserPage?userUrl=beneaththesurfacemarathon&faId=1223014&isTeam=false&stop_mobi=no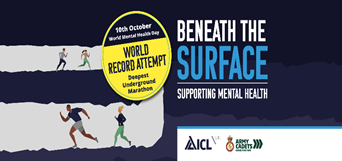 ---
Economic Data as at close on Friday 18th September v (11th September 2020) £ = $1.2957 ($ 1.2796) £ = € 1.0924 (€ 1.0815)   Crude Oil = $ 43.34 ($ 40.07) Natural Gas = $2.03 ($2.28) Please treat pricing on graphs as a guide, please use quote request form for an up to date price.