Ammonium Nitrate
CF & Yara re-published terms last Monday, by our estimates the eighth price list of 2021. February terms are technically still available at an increase of £ 5 per tonne over the last offer, practically this only leaves this week to get deliveries organised, which may be difficult, so delivery could quite possibly roll-over into early March, which given the weather conditions may not be too much of an issue. The concerning part of this latest offer for CF users will be the £ 10 per tonne jump in prices for March delivery making U.K A.N 34.5N just under £ 290 per tonne. Yara have kept the increase on its Extran Granular 33.5N to £ 5 per tonne and have also been able to go as far as April delivery, which CF have not. CFs' challenges on production seem to continue as NPK compounds are not available until April, along with NS Compound Single Top.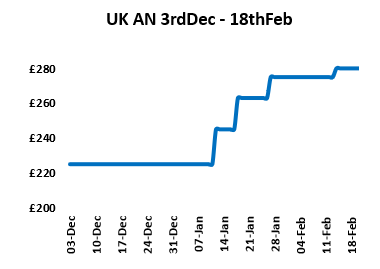 First N Applications & Spring Nutrition
Yara's Arable Agronomist Natalie Wood talks about planning first Nitrogen applications in Yara's latest 'Grow the Future' update. When winter cereals begin spring growth getting the crop moving and maintaining its momentum should be the focus of the spring nutrition strategy. This update looks at what is needed to keep this momentum going; how Nitrogen rate influences tiller numbers, as well as what rate of nitrogen should be applied for either forward or backward crops. Whilst not forgetting the importance of Phosphate, Potash and Sulphur. To read the update in full go to :-
https://www.yara.co.uk/grow-the-future/spring-arable-nutrition/
Logistics
Most suppliers have been offering March delivery only for several weeks, as mentioned earlier UK A.N is still available at February pricing, but realistically this means March. After a very busy January for new sales, February has been less active which may be the effect of a combination of steep price rises in most product areas and the very wet and wintery weather conditions. However, the next ten days forecast hopefully offers a much warmer drier period, as a result we are expecting a significant pick-up in demand from most product areas, which will present the usual spring delivery challenges. Act now with any further requirements, it will save waiting time down the line.
Economic Data as at close on Friday 19th February v (12th February 2021) £ = $ 1.4006 ($1.3854) £ = € 1.1558 (€ 1.1431)   Crude Oil = $ 62.67 ($ 62.64) Natural Gas =$ 3.21 ($2.86) Please treat pricing on graphs as a guide, please use quote request form for an up-to-date price.