Ammonium Nitrate
UK producers returned to the market last week, after terms were withdrawn on 14th August. New terms posted show an £ 8 per tonne increase over previous August, September, and October prices. In Fertiliser Focus on 27th July we speculated at what the aspirations of the UK producers at that time would be, and £225 was the figure we projected. That figure has now been reached for September delivery and exceeded for October. £225 was the bottom of the market of the previous season. Growers need some confidence in cereal plantings this autumn and that the price for Ammonium Nitrate will hold. With global Nitrogen levels still being driven strongly by Urea demand from India, it feels unlikely that we will see any major correction in prices in January 2021 as we did in 2020. Good cereals plantings in the UK should also encourage UK producers to hold prices.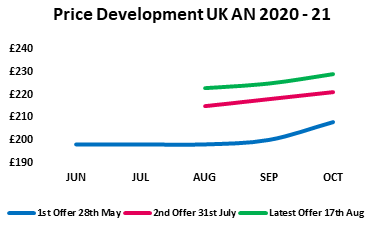 Urea
Another week another tender and judging by the industry speculating that India still needs 1M tonnes per month until the end of 2020, then this should come as no surprise. While being good for manufacturers, this suggests continuing firm prices for the grower. But, in the most recent tender the proportion of tonnes supplied by China increased, which could give an element of hope that greater Chinese exports could change the supply and demand ratio in favour of more supply which could release the pressure on prices.
Belarus Unrest
Until the fall of the Soviet Union, Belarus was a value tractor brand from Eastern Europe, now the country with a population of nearly 10M and bordered by Russia; Ukraine; Poland and Lithuania, is a major producer of fertiliser. Recent political unrest and protests about the latest elections and leadership of President Alexander Lukashenko has led to industrial action. This has involved nitrogen manufacturer Grodno Azot and BPC (Belarus Potash Company) both going on strike. Some suppliers have withdrawn grades high in Potash as a precaution, but so far it has had little impact on the market price, however prolonged disruption from a country that produces 5M tonnes of Potash per annum is sure to create problems. BPC released a statement stating they will make every effort to implement agreements, and hope for a quick resolution to the situation, and ask people to pray for peace.
---
Economic Data as at close on Friday 21st August v (14th August 2020) £ = $1.3074 ($ 1.3110) £ = € 1.1098 (€ 1.1087) Crude Oil = $ 44.22 ($ 44.72) Natural Gas = $2.35 ($2.31) Please treat pricing on graphs as a guide, please use quote request form for an up to date price.