Ammonium Nitrate        
CF's period of self-imposed absence from the market came to an end last week. Growers were pleased to see a reduction in price of £ 12 – 14 per tonne, depending on the grade. A correction was probably inevitable as the differential to Imported A.N had grown to over £ 20 per tonne. The previous offer which was the third of the season (see chart below) had been in place since 17th August so was badly in need of a re-fresh. Enquiries and business have been busier as a result of this 'kick-start' that the market badly needed. Quite how long CF will let this latest offer run for is difficult to know, commercial policy appears to be very unpredictable. Accepting that UK AN was somewhat out of 'kilter' against Imported AN, Urea values remain stable to firm, this offer bucks the direction of travel in N markets so is an opportunity to take advantage of.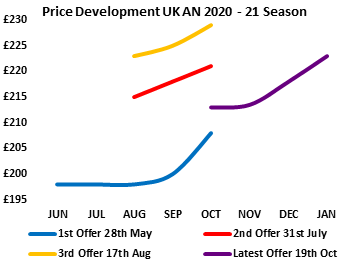 Urea    
The RCF Urea tender, which was published on 1st October, was fast becoming something of a saga. Last Friday India finally confirmed purchases of just over 2.1 M tonnes in what is being recognised as the biggest ever single Urea purchase. Delays were primarily based on financing this record contract. Whilst waiting for news activity elsewhere has stalled, however it seems ambitious for that volume to be completed by the shipping deadline of mid-November. It is easy to overlook in all the hype over the scale of the contract, that India still needs more and probably before the end of 2020. Manufacturers know this, and they also know about demand still to come from the likes of Brazil. From a UK perspective as we head into November, we also need to buy tonnes, maybe not anywhere near this scale, but we do non-the-less. The remainder of 2020 looks firmer on prices and does not leave much time for any unlikely correction in early 2021. Even taking in account CF's new pricing structure for A.N, Urea is good value, in line with usual expectations. Back to the Indian tender, to try and put that purchase into perspective, the value of the deal is well over half a billion US Dollars. If the contract were supplied in 600Kg bags it would total 3.5 million fertiliser bags, and if each bag were stacked on top of each other it would be 400 times higher than Mount Everest. The overall volume of the contract means you could fill The Royal Albert Hall nineteen times.
Economic Data as at close on Friday 23rd October v (16th October 2020) £ = $1.3053 ($ 1.2924) £ = € 1.1023 (€ 1.1028)   Crude Oil = $ 42.62 ($ 42.40) Natural Gas = $2.97 ($2.77) Please treat pricing on graphs as a guide, please use quote request form for an up to date price.