Urea
The recent RCF (Rashtriya Chemicals and Fertilisers Ltd) urea tender which closed on 19th June, saw a total of 2M tonnes offered. This is higher than some in the industry expected. Prices were up on previous recent tenders, and although the volume offered was higher, China did feature but not significantly. Values were up too, but not as high as many manufacturers would hope to have seen. Evidently only 600K m.t was bought, more is surely needed for India, brinkmanship possibly to temp producers to lower prices? It remains to be seen if China will be tempted back into the Urea export market at these levels, this could have a bearing on UK prices for Q4 of 2020, if they do this could release volumes from North African producers, the UK usual source.
Ammonium Nitrate
Both UK producers re-published terms last week after a pause for a few days. There is availability from June through to October, although September is likely to be limited due to the uptake from the start of the new season. Prices moved back to a monthly increment rather than the first offers which were flat priced from June to September. Price levels moved up £ 7 for July, £ 9 for August and £ 11 for September deliveries. October is available too with a further £ 2 carry over the September price. This still represents a significant saving over the same period last year.
2020 A.N Market so far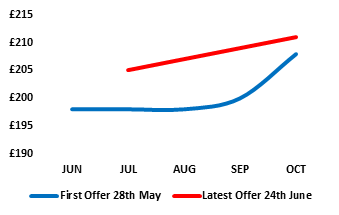 BASF Real Results Virtual Farm
As mentioned here last week BASF recently launched its Real Results Virtual Farm platform. The farm has over a dozen fields to explore, with topics such as oilseed rape, cereal herbicides and fungicides, nitrogen management and digital farming. Each field topic then opens a range of different items, video clips, product information and message boards. Once registered BASIS CPD points can be acquired by taking part in various on-line quizzes. The live event field has already hosted several webinars, the most recent held last Thursday was on the subject of urease inhibitors. A recording will be made available to view at your leisure, all you need to do is register on the link below.
---
Economic Data as at close on Friday 26th June v (19th June 2020) £ = $1.2363 ($ 1.2355) £ = € 1.0990 (€ 1.1049)   Crude Oil = $ 40.39 ($ 42.60) Natural Gas = $1.60 ($1.68) Please treat pricing on graphs as a guide, please use quote request form for an up to date price.