Urea
Despite the UK market still sat waiting for weather conditions to improve, global markets are firm with North African producers up $5/ t and US markets up $15. Spring demand and continued concerns over reduced production in China due to Coronavirus, are the main reasons.
Yara Competition
Yara are running a competition during the six nations to win an official rugby jersey and a Yara big bag knife, the competition is open to any customer buying full loads of Yara Booster range fertiliser.
Yara Mila Stock Booster S
Yara Mila Silage Booster
Yara Mila Nutri Booster
Full details can be found on the Yara website.
https://www.yara.co.uk/crop-nutrition/news-and-events/rugby-competition/
---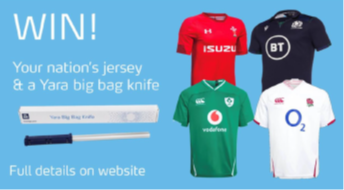 Origin Enterprises
Origin Enterprises the parent company of Origin Fertilisers, Agrii and many other agricultural and amenity businesses last week released a trading statement. The statement paints a picture of the supply industry currently dealing with the relentless weather conditions. An earlier statement in November 2019 expected the total area for winter crops to be down by 25%, this figure has now been revised to at least 40% lower year on year. The company goes on to state that with autumn and winter rainfall at the highest for 30 years, and with the understandable switch to spring cropping the total area planted could be 10% less year on year. Origin Enterprises now employ over 2,500 people across seven different countries and claims to have a direct customer 'footprint' of 12M hectares. In what amounts to a profit warning the company are due to release 2020 interim results on 5th March.
George Eustice – NFU Conference
George Eustice, Secretary of State for Environment, Food and Rural Affairs spoke last week on day 2 at the NFU annual conference in Birmingham, soil health was mentioned as part of the agriculture bill being critical both for the environment and for farm productivity. The Agriculture Bill is due to start the committee stage on 3rd March in the House of Commons. The speech is available on the link. https://www.youtube.com/watch?v=AtAsvoJY3ks
Economic Data as at close on Friday 28th February v (21st February 2020). £ = $1.2781 ($ 1.2960) £ = € 1.1611 (€ 1.1943) Crude Oil = $ 50.51 ($ 58.23) Natural Gas = $1.71 ($1.90). Please treat pricing on graphs as a guide, please use quote request form for an up to date price.