Urea
Confusion still reigns for international urea markets at present. The outcome of the recent Indian tender has been put in doubt following the 21-day lockdown imposed by the Indian government. The tender expected to be for 1M tonnes was due to close on 30th March, the demand is still needed but is clearly going to be delayed as ports will struggle to operate under lockdown. Urea markets had been weakening recently due to market uncertainty, fell further last week as China returned to the market following its own disrupted production. FOB Egypt prices fell $20 as a result. However, these are very strange times and while demand may have paused from India, production shutdowns due to Covid 19 will make this a very volatile period for most product areas.
Ammonium Nitrate
Yara withdrew terms at the end of last week, and at the time of writing are yet to return to the market. Increasing demand as well as logistical issues across UK and Europe will be a concern.
Potash Development Association
The PDA keep up their excellent work with their latest edition of Potash News. The switch from winter to spring cropping is examined specifically on crop rooting systems. The most recent edition is available to read on-line:-
https://www.pda.org.uk/crop-root-systems-explain-need-to-maintain-k-index-level/
Logistics
Spring is clearly one of the busiest times of the year for both growers and distributors alike. So, it is encouraging given the current challenges facing everyone at present that trade bodies are working with government to ensure deliveries of all inputs can continue as best they can. Driver hours have been extended for an initial period to the end of April. Most routine trade assurance audits have been suspended as many businesses operate with staff at home or with minimal office staff. Lead times are stretching out as ordering of products for spring cropping has started to pick up.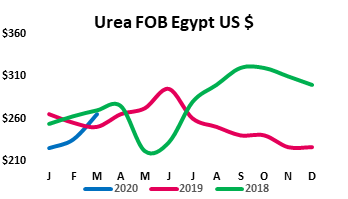 Yara Webinar
A recording of last weeks' Yara webinar 'Grass Silage Nutrition' of spring crops' is available on-line, click on the link below: –
https://www.yara.co.uk/crop-nutrition/news-and-events/events/2020/grassland-silage-webinar/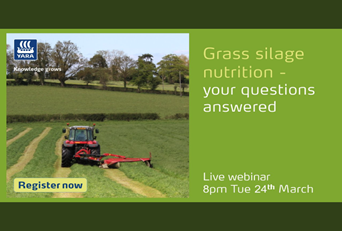 ---
Economic Data as at close on Friday 27th March v (20th March 2020) £ = $1.2461 ($ 1.1644) £ = € 1.1184 (€ 1.1088) Crude Oil = $ 24.93 ($ 26.98) Natural Gas = $1.67 ($1.60) Please treat pricing on graphs as a guide, please use quote request form for an up to date price.