Ammonium Nitrate
Terms published for May delivery last week from the U.K producers roll-over the prices from March and April. Double Top from CF has limited availability depending on the bag size required. Thoughts with growers and trade alike will naturally start to drift towards new season and what the potential is for a re-set of prices. From the start of the 20/21 season to today, prices have risen approximately £ 75 per tonne, so it would be very optimistic to expect the 21/22 season to start at the levels seen in June 2020. As has been reported here over the last few months, 2021 has seen all commodities rise significantly and key areas for Nitrogen production will be the increase in demand and the increase in the cost of production through oil and gas prices. Timing of when the new season starts is always difficult to predict, the dry weather which has delayed crop development of both cereals and grassland may play a part. Recent rain in some areas has encouraged the spot market with some good demand, if that theme continues through the month of May, it could possibly delay the start of new season. Traders and merchants will be looking towards the European market in coming weeks, as the re-set usually comes there before the U.K which may set the tone for the market to come. Now is a good time to re-assess Nitrogen and Sulphur policy and look at all the options available.
Nitrasol North
Construction is progressing well at the new Nitrasol North liquid fertiliser terminal at Sunderland, the picture below shows a roof structure on one of the storage tanks being assembled, prior to installation. The site is hoping to be operational this summer and will strengthen the Nitrasol business alongside its existing terminal at Great Yarmouth. This investment highlights that the industry is ready to supply the new growth expected in this sector. If you are interested in switching to liquid fertilisers and would like to know more about the many benefits that come with the system, please speak to your Farm Trader, or call Russ Davison on 07825 925485.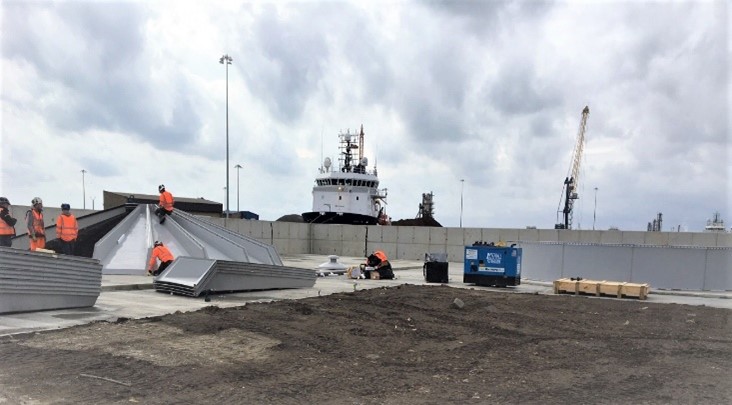 Urea
India has issued an import tender, due to close on 4th May for shipment in June. Volume is unspecified and will be a strong reference point to Indian demand amidst the horrendous covid crisis currently on-going.
Economic Data as at close on Friday 30th April v (23rd April 2021) £ = $ 1.3866 ($1.3924) £ = € 1.1486 (€ 1.1508)   Crude Oil = $ 66.57 ($ 65.42) Natural Gas =$ 2.94 ($2.76) Please treat pricing on graphs as a guide, please use quote request form for an up-to-date price.