---
Wheat Flags
Influence on wheat prices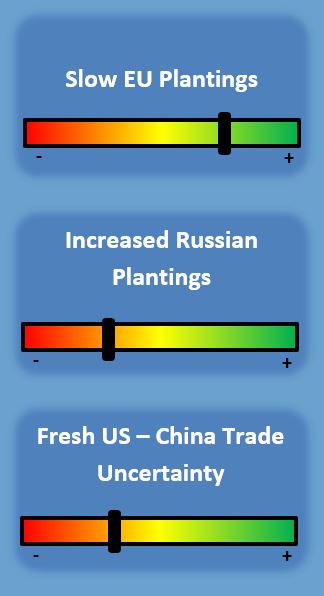 03/12/2019
Market drivers remain reasonably static with the main focus still being weather and politics. Last was shortened for US traders by Thanksgiving celebrations, this in turn put a flat spot in other markets mid-week.
Slow plantings in western EU are still a problem with the UK suffering more than others. In France, national planting progress reached 80% which corresponds with a delay of 1 week under ideal conditions. By now, the French crop would normally be 99% planted. Regarding condition, 75% of the wheat is in good-excellent condition (wow of -3%), versus 82% last year and a 5 yr average of 93%.
Conversely, in the US, crop ratings show wheat is faring well with conditions in line with average for this time of year. In Russia the wheat area is expected to expand again with 18.2Mha of winter planting already complete. This could mean that whilst we see reduced production in the UK & France, global supplies will remain strong overall.
UK old crop trade is mainly concentrated around spot positions and planning Christmas logistics. For the time being, this is helping to support domestic values but means that there is no new export business being written as buyers feel that UK prices are too expensive.
Exports have now fallen well behind the pace needed to ship the large surplus from this seasons sizeable crop. We are now likely to see what will possibly be a record carry out which will go some way to alleviating the impact of a smaller crop next year.
Volatility from US/China trade negotiations continues with Trump now suggesting that a deal with China may have to wait until 2020, possibly even until after the US election. This is a significant shift away from previous talk of a deal prior to the 14th Dec and the next wave of Trump's trade tariffs. Markets react negatively to this sort of news and today has added weight to a drop in futures.
---