Urea
Urea producers once again look to India for direction in global urea markets. MMTC (Metals and Minerals Trading Corporation of India) published the fourth Urea tender since April, due to close on 17th July. As reported here in Fertiliser Focus in recent weeks, demand is strong in India this season due to favourable monsoon conditions. If China do have the volumes to supply, it is thought MMTC could buy 1M tonnes to be shipped in August. Recent tenders have seen around 600k tonnes purchased each time. The most recent RCF tender, a relatively small volume of just over 100k tonnes was sourced from China. Domestic Chinese use is now moving out of season, so many commentators expect them to supply a higher proportion in this next tender, however it is doubtful if there is enough inventory available in the relatively narrow time frame for shipping. 1M tonnes may prove to be a tough volume to source and may prompt further tenders in the weeks and months to come. UK markets remain stable to firm, activity on all N products has been subdued as growers prepare for harvesting.
Rabobank Research
Rabobank have stated in a recent report that the outlook for fertiliser prices looks relatively flat. However, any further Covid-19-related interruptions to global production and/or supply chains remains the most prominent risk for fertilizer prices over the next six months. This may lead to sharp, short-term price rises if shortages arise.
Yara Oilseed Rape Webinar  
Yara continue to broadcast valuable information, crucial at a time when public events are not possible. Last weeks' webinar was on the subject of Oilseed Rape, and was titled "Successful oilseed establishment – what makes the difference?" Speakers were Natalie Wood – Yara Agronomist and Oilseed specialist Michael Farr from DSV. Subjects covered were:
Seed treatments for quick establishment – Mn, P
Target spring population
Drilling dates & sowing depth
Placing autumn fertiliser does it make a difference?
Which fertiliser grades for autumn nutrition?
Crop momentum before winter & micronutrients.
Just click and register on the link below (BASIS CPD points available for watching).
https://www.yara.co.uk/crop-nutrition/agronomy-advice/agronomy-webinars/successful-oilseed-establishment/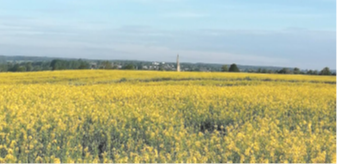 ---
Economic Data as at close on Friday 10th  July v (3rd July 2020) £ = $1.2649 ($ 1.2465) £ = € 1.1180 (€ 1.1085)   Crude Oil = $ 42.65 ($ 42.59) Natural Gas = $1.83 ($1.72) Please treat pricing on graphs as a guide, please use quote request form for an up to date price.