Phosphate & Potash
Enquiries for P & K have picked up recently as interest in Nitrogen grades slows down for the time being. Phosphate levels are particularly attractive too being over £ 50 per tonne cheaper than at the same point in 2019. Current pricing levels suggest now is a good time to consider a purchase for TSP & DAP for autumn or for spring use. Prices look firmer in the near future as India have been buying heavily as have Brazil which is also a key market for DAP. Demand in India for DAP is circa 10Mt, China uses about the same from a global annual production of around 35Mt. China is by far the largest producer of DAP at around 18Mt, to put that in context the next largest producers are India and the USA at 4Mt each. It is not clear if production is back up to full capacity following the Covid-19 crisis.
Guinness as Fertiliser
For many this headline will be sacrilege, but a recent report in The Independent has suggested that brewers Guinness have been using thousands of unused barrels of the 'Irish Champagne' to fertilise Christmas trees during lockdown. Millions of litres of The Black Stuff were retrieved from pubs and bars forced to close their doors and were repurposed in this way as part of an environmentally friendly forestry project. Aiden Crowe, director of operations said 'It's been a tough time in the brewery' even tougher probably for fans of Guinness to see it being used this way !
Liquid Fertiliser
The British Survey of Fertiliser Practice for 2019 was published on 23rd June. Overall Fertiliser use in Great Britain fell to 3.7M tonnes down from 3.9M tonnes in 2018. However, one sector of the market that has consistently seen a growth in use is the liquid fertiliser sector. Figures show the UAN (Urea Ammonium Nitrate) market over the 500K tonnes level for the first time ever, at 534K tonnes, up from 467K tonnes in 2018. This growth has come for many different reasons, a move towards 36 metre bout widths which limits the choice and performance of solid nitrogen products. A desire for greater accuracy at all working widths has also been a key factor. Increasing yields on field borders is also a major benefit. COFCO are well positioned to support any growers looking to convert to a liquid fertiliser system, please call Russ Davison 07825 925485 to start the switch.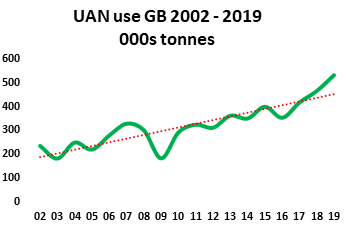 Source: British Survey of Fertiliser Practice
---
Economic Data as at close on Friday 3rd July v (26th June 2020) £ = $1.2465 ($ 1.2363) £ = € 1.1085 (€ 1.0990) Crude Oil = $ 42.59 ($ 40.39) Natural Gas = $1.72 ($1.60) Please treat pricing on graphs as a guide, please use quote request form for an up to date price.