Currency
A turbulent week on the currency exchanges led many manufacturers to withdraw terms last week. Fears over the economic impact of the coronavirus sent Sterling falling over 6% over the week. The biggest concern and the reason for the reaction will be the question …Is this a short term drop or are there further falls to come? Many are reviewing positions and should return to the market on Monday, but we can expect further cycles of price withdrawals as the economic impact of this global health crisis seems far from over.
Urea
Urea markets continue to shrug off any impact of falling energy prices. It is still not clear when and if India will tender for the expected 1M tonnes of product. The anticipation of this and further strong demand from the US is likely to keep markets firm for the rest of the UK application season this spring.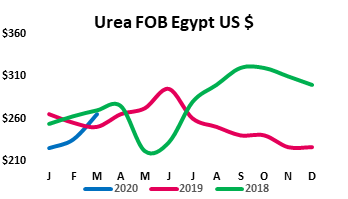 AHDB – New Chair
UK Government Ministers have appointed Nicolas Saphir as the new Chair of the Agriculture and Horticulture Development Board, with affect from 1st April for a period of three years. Mr Saphir takes over the role from former NFU President Sir Peter Kendall. Mr Saphir has a wide range of farming experience from around the world.
Yara Webinar
Yara UK Ltd will be holding another of their very popular on-line webinars this week. The title of this latest one is: –Nutrition of spring crops – your questions answered. The webinar will be held on Wednesday 18th March at 7pm, to register click on the link, don't worry if you can't make it, it will still be available to watch as an on-demand recording.
https://www.yara.co.uk/crop-nutrition/news-and-events/events/2020/spring-crops-webinar/?utm_source=yara&utm_medium=email
---
Economic Data as at close on Friday 13th March v (6th March 2020)£ = $1.2388 ($ 1.3048) £ = € 1.1162 (€ 1.1559) Crude Oil = $ 33.84 ($ 45.27) Natural Gas = $1.87 ($1.71)Please treat pricing on graphs as a guide, please use quote request form for an up to date price.