---
Wheat Flags
Influence on wheat prices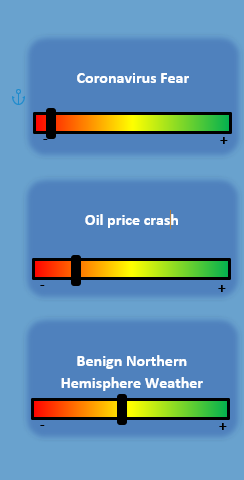 16/03/2020
Global stock markets have seen one of the biggest sell off's in history as a result of the ongoing Covid – 19 crisis. The virus has spread well beyond it's origination point in China to become a global pandemic. There are expected to be cases in virtually every country on the planet in the not too distant future and as it spreads it's disrupting economies, healthcare systems and commodity markets.
An example of which is that of oil, one of the most central commodities to global growth. Demand is expected to be hit not only due to the virus but also a price war between Russia and Saudi Arabia which has shaken markets with Brent Crude moving over 50% lower since January. This has added significantly to the negativity surrounding global commodity prices and weighed on investor sentiment.
Wheat markets have continued to drop heavily. In the US, Chicago wheat has traded to 5 month lows despite rumours of Chinese interest in US spring wheat and declining soil moistures in the Plains. It serves as a reminder that the current market is trading Covid – 19 headlines before the fundamentals behind the commodity. Markets were also given little inspiration from an unchanged USDA report that even on its release seemed to create little to no market movement.
In the UK the sentiments above are echoed with the fundamentals being outshone by the virus. Though looking forward, the spring plantings may start to have more of a market impact. Due to the small winter plantings the focus on whether the spring crop gets in on time has rarely been bigger. If the weather stays dry in the UK it will go some way to alleviating the S&D for new crop. More rain and planting delays however, could see support for prices as new crop will look even tighter than before.
Coronavirus aside, looking forward on the supply side markets will focus on Northern Hemisphere weather for direction during this important phase of both the growing and planting season. However, it's very difficult to see anything that is currently developing that will over shadow the volatility and headlines brough by the virus. The biggest market influencer going forward will undoubtedly be the continued spread and number of cases seen globally coupled with the impact it will have on demand going forward.
---