Currency
If recent weeks have been described as turbulent then last week would be best remembered as unprecedented. Sterling continued to fall in value against the US Dollar, weakening to a 30-year low. At one point registering as low as $ 1.1479 before recovering to $1.1644. As predicted, this created major challenges for any shipper trying to manage positions, stock levels and new purchases. Suppliers were in and out of the market as the situation changed rapidly. To put this into context, assuming static current FOB Egypt values, this puts just over £ 20 per tonne onto the price of Granular Urea in the UK.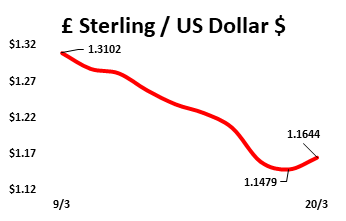 Urea
After weeks of global prices firming due to spring demand, Urea markets fell between $15-20 FOB Egypt. The impact of this has been somewhat negated by our own currency issues as mentioned above, however it's clear that there is huge uncertainty at present around shipping transportation and production. Demand in Europe has been hit by movement of product being affected by closing of borders resulting in queues measuring many kilometres.
Ammonium Nitrate
Urea markets continue to shrug off any impact of falling energy prices. It is still not clear when and if India will tender for the expected 1M tonnes of product. The anticipation of this and further strong demand from the US is likely to keep markets firm for the rest of the UK application season this spring.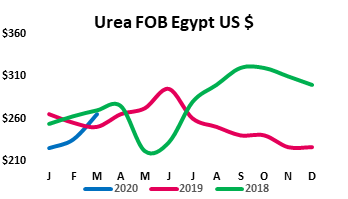 Yara Webinar
A recording of the recent Yara webinar 'Nutrition of spring crops' is available on-line, click on the link.
https://www.yara.co.uk/crop-nutrition/news-and-events/events/2020/spring-crops-webinar/?utm_source=yara&utm_medium=email
There will be another webinar on Tuesday 24th March at 8pm entitled 'Grass Silage Nutrition' again simply click in the link below to register.
https://www.yara.co.uk/crop-nutrition/news-and-events/events/2020/grassland-silage-webinar/
Logistics
Transport and logistics can always be challenging at this stage of the season; however, the current situation is putting tremendous strain on everybody involved. The whole industry is working extremely hard to get product on farm in a timely fashion.
---
Economic Data as at close on Friday 20th March v (13th March 2020) £ = $1.1644 ($ 1.2388) £ = € 1.10884 (€ 1.1162) Crude Oil = $ 26.98 ($ 33.84) Natural Gas = $1.60 ($1.87) Please treat pricing on graphs as a guide, please use quote request form for an up to date price.