Ammonium Nitrate                               
At the time of writing there was lots of speculation in the trade that CF may decide to launch the 2020/21 new season Ammonium Nitrate market in the UK this week. Whilst not unprecedented to launch in late May it would certainly be earlier than average. Much debate has been had about whether in the current environment growers have the appetite to buy A.N for next spring. Factors that may affect this decision for growers are many and varied. There is certainly some evidence of carry-over of product following the tough 2019/20 season. Cropping decisions have yet to be made in many instances as the crop still in the ground takes priority. Product choice is important too as dry conditions this spring force many to re-think strategies, see more about this in the Limus section. CF will do what they feel is right for their business, many have a view on what the price should be, but as an international business they have to look further afield, A.N prices in Europe firmed last week by $2/t which may not seem significant but it shows a trend. As reported here last week Urea markets firmed following the lack of Chinese tonnes in the recent MMTC tender. CF have never been known to talk the value of their own product down, but expectations of a price below £ 200 per tonne may have had cold water poured on it by them, or is this just fun and games on their side? There is always speculation at this time and whether growers are receptive to the market will be known in good time.                
Limus ® Protected Urea
Never has product choice been as important as the next season we are about the head into. Urea is one of the main areas of debate. Problems with dry conditions at key spring application periods over recent seasons being one. Possible future legislation has also made many growers question if Urea is the right product to use going forward. Commercial aspects too also mean now is the perfect time to try Limus® protected urea. Limus® protected urea delivers the same performance as Ammonium Nitrate but with significant savings, not only this but using 25% less product than an equivalent A.N system. Less product means less waste plastic to dispose of. COFCO shipping and production schedules also mean later delivery, which has the added benefit of later payment, all which will help cashflow in the coming 12-18 months. For more details of the many benefits of Limus® click on:-
https://www.agricentre.basf.co.uk/en/Sustainability/Nitrogen-Management/Limus%C2%AE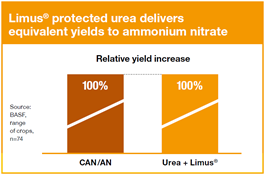 ---
Economic Data as at close on Friday 22nd May v (15th May 2020) £ = $1.2193 ($ 1.2127) £ = € 1.1191 (€ 1.1203)   Crude Oil = $ 35.13 ($ 31.37) Natural Gas = $1.70 ($1.68) Please treat pricing on graphs as a guide, please use quote request form for an up to date price.