Spring Nutrient Management
Last week Yara held an on-line webinar, the title being' Nitrogen – What do we do?', the subtext to this being after all the wet weather. The effect of waterlogging on soil nutrient supply was discussed, and as mentioned in last weeks' Fertiliser Focus, it is easy to just think about Nitrate leaching in the conditions we have experienced; however, we shouldn't forget about Sulphur. Sulphate behaves similarly to Nitrate so there will have been leaching over the last three or four months. NIAB TAG in a recent blog referred to 2001 when we experienced similar conditions which resulted in the need to apply Sulphur to cereals for the first time for many growers, the key message this spring is don't reduce sulphur applications.
Also discussed was the principles of what builds yield, especially looking at biomass. Late sown or poorly established crops are likely to be of low biomass. Nitrogen and Phosphate will drive early growth, Potassium is then needed once that biomass is created. Apply an early application of Nitrogen, either as an NS or NPKS as soon as possible but only if fit to travel, and avoid if drains are running, a minimum of 30Kg / Ha N should be considered. Technology can help take some of the guess work out of managing crops, YaraIrix is a free app that turns your smartphone into a Nitrogen Sensor, go to https://yarairix.com/en for more details. The webinar is available to watch back at your leisure go to www.bit.ly/2S1VJgK to obtain a link.
Ammonium Nitrate
As we move into February, could there be a recovery in A.N prices for UK manufacturers? January trade was brisk with terms being withdrawn on 24th of the month.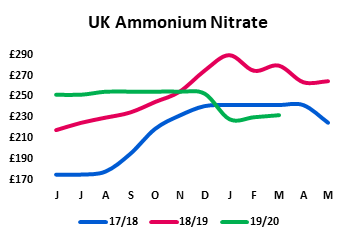 Coronavirus         
The coronavirus outbreak in China could hit global chemical demand as the Lunar New Year holidays are extended and some manufacturing plants shut down. The strong reaction by the Chinese government is aimed at controlling the spread of the virus but could also have a big impact on the Chinese economy. It is not clear at this stage if any fertiliser production particularly Urea has been suspended, this is a subject matter we will be keeping a close eye on.
Economic Data as at close on Friday 31st January v (24th January 2020) £ = $1.3155 ($ 1.3074) £ = € 1.1888 (€ 1.1587)   Crude Oil = $ 58.11 ($ 60.69) Natural Gas = $1.85 ($1.89) Please treat pricing on graphs as a guide, please use quote request form for an up to date price.