---
Wheat Flags
Influence on wheat prices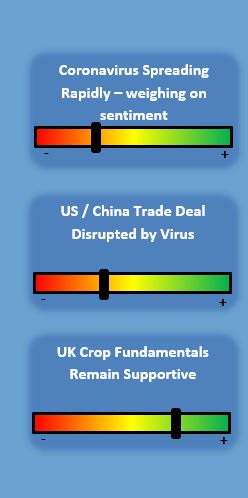 04/02/2020
Last week global markets took a significant hit as the Coronavirus impacted sentiment hard. Early in the week a general 'risk off' theme set in leading to declines across the board in many commodities and global stocks before a more severe sell off occurred on Friday afternoon leading to a big drop in prices for the week.
As things stand there have been over 20,000 cases of the virus across the world with 427 deaths reported surpassing the SARS virus of 2002 making it one of the most deadly outbreaks in Chinese history. The global impact is already being felt with huge disruption to global markets, transport and ultimately demand. The Chinese economy was expected to grow by 6% this year, a figure that already looks impossible to achieve. What the real economic impact will be from the virus is extremely difficult to predict and will be an ongoing cost for the market to consider.
Another impact of the virus is the side lining of the US / China phase one trade deal. After pushing markets upward on the back of positive negotiations suddenly the phase one commitments are now being called into question. China have already indicated that the loose agreement may have to be amended due to the impact of the virus which could give agricultural markets jitters in the near term until its clear how badly China's trade dynamics will be impacted.
Elsewhere, market news is limited or at the very least overshadowed greatly by the Coronavirus headlines. Weather globally remains benign with parts of Europe seeing heavy rains whilst welcome snow falls across South Russia and the Ukraine which should provide their crop cover against a temperature drop coming in the next week or so. Similarly, the US remains warm and dry and so the threat of winterkill remains extremely low.
Egypt's GASC tender last week proved French wheat to be the cheapest as 180kt traded for March. As such we've seen Russian wheat futures drop not only due to the virus but also so it can compete on the export market. With the Russian AG ministry sticking to their 36Mmt export figure they still have 13Mmt to ship for the season which is sharply higher than the 8Mmt exported in the same period last season.
Looking forward, in the short term the market will be dominated by Coronavirus updates which could continue to cause wild swings across all markets until the virus is controlled. It will take these headlines to subside to allow the market to look back at the fundamentals behind prices and only then will we see where the 'true' value of all commodities really is.
---