Urea
Urea markets woke up with a jolt last week, after a pretty quiet period since the start of 2020. This was driven by prices in the US firming circa $20 per tonne, this was due to lower than usual applications of ammonia in the autumn. The U.S is not self sufficient in Urea and needs imports to make up the shortfall. Traders looking at the figures of shipments into the US recognised there was likely to be a supply issue. Not only this but wider concerns over reduced Chinese production levels as a result of the Coronavirus, led to over 100,000 tonnes being booked for the US last week. If India also come to the market with one of its usual tenders, then this could be a shrewd move. All of this gave confidence for the Egyptian producers, the usual supplier for UK markets. Prices firmed by around $ 12 per tonne. The UK also has a potential shortfall with stocks bought in prior to the earlier Brexit deadline of 31st October siting in stores for longer than anticipated due to the terrible weather holding back forward purchases in Q4 2019, this prevented the usual turnover of stock, and even with a pessimistic view of the market size due to spring cropping, the UK will still need to import more Urea before the end of the application season, estimates vary between 100120K tonnes. What this means for the UK market is a firming of Granular Urea prices of around £ 5 per tonne, however this may be just the start of the upside to the market as we approach application season in Europe.
Di Ammonium Phosphate
Di Ammonium Phosphate (DAP) 18N 46P, prices also firmed last week. This is partly due to usage period about to step up and to the incredible value seen in DAP prices, which have been the lowest in 10 years. This has encouraged strong buying. Prices in the UK have moved up by around £ 10 per tonne. Despite this DAP is still amazing value Nitrogen.
Sirius Minerals
In the latest news in the saga that has become Sirius Minerals, the company has set up a shareholder hotline to answer any questions about the proposed take over by Anglo American. This as it sets out the proposed timeline of the deal. Shareholders will vote on whether to accept the deal on March 3rd, Sirius are still cautioning that the company will likely fall into administration or liquidation within weeks if not approved.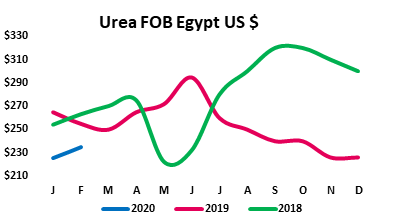 Economic Data as at close on Friday 7th February v (31st January 2020) £ = $1.2885 ($ 1.3155) £ = € 1.1773 (€ 1.1888) Crude Oil = $ 54.47 ($ 58.11) Natural Gas = $1.86 ($1.85) Please treat pricing on graphs as a guide, please use quote request form for an up to date price.