---
Wheat Flags
Influence on wheat prices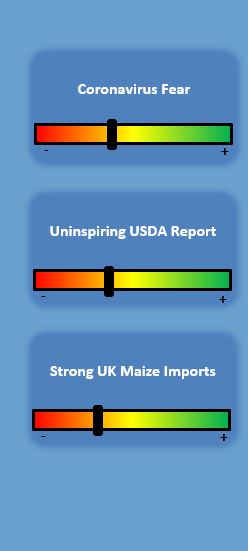 12/02/2020
Fears of a global economic slowdown due to the coronavirus have continued to weigh on global commodity markets as demand for agricultural products remains uncertain. Recent headlines, however, suggest that China's efforts to contain the virus may be starting to pay off with a lower rate of infections and deaths.
If the Coronavirus headlines do indeed die down or at least get less attention, the market can go back to looking at the fundamentals behind trade. Tuesday's USDA report was the perfect opportunity for the market to do just that.
Unfortunately, the report was relatively underwhelming and failed to produce any fresh bullish data as the trade had hoped for. As such, the market response was a technical sell off particularly in wheat futures with corn also slipping lower. Negativity also came from the fact that the USDA was unable to incorporate the US / China 'Phase 1' trade deal into the report with volume and commodity split data not having been made public. This therefore made it impossible to apportion demand.
In other news, weather patterns remain relatively benign with adequate snow cover in the US and Russia to protect crops from freezing temperatures with only minimal winter kill to date. In Europe, temperatures remain above average in the south whilst the north has been wet. With the exception of the UK, conditions remain generally positive for crops in the near term. Weather will increasingly become an important factor to monitor as crops develop through the spring and summer.
Looking forward, the development of trade between the US and China will be crucial for markets as will the spread of the coronavirus. Here in the UK, spring plantings will be the main focus with everyone praying for favourable weather. Also, of keen interest is the cost of imports with Baltic wheat already looking competitive with new crop domestic prices. Maize is also very cheap and together with a big UK barley crop will place a cap on domestic wheat prices.
---