Urea
Urea markets held on to the increases in prices that began last week, some producer areas saw levels firm a little more. Recent activity driven predominantly from the US has seen over 300K tonnes purchased, with the expected increase in corn planting in the US this spring there is speculation that a further 500K tonnes is needed. With most major producers, Egypt being one, sold out now for February, this demand will be met in March meaning the next month for global Urea pricing looks strong. 
General
While in the UK market activity has slowed mainly due to the weather, the ever-tightening window to plant winter cereals has now probably been slammed shut. Despite this, more urea will need to be shipped in, but there is bound to be an air of caution from shippers not to carry stocks over into another season. On Ammonium Nitrate if the experience of the end of January is anything to go by, then prices will move up £ 2 per tonne for March. Towards the end of January UK producers would only accept full load orders as ability to deliver part loads was limited, as we stand at the moment no such restriction has been announced but it would be wise to be prepared. Imported A.N is readily available but with usage period just getting started domestic demand in Eastern Europe may take priority over exports. 
Cabinet Reshuffle
Whilst most news sources were focusing on the resignation / sacking of Sajid Javid as Chancellor, one definitive sacking was Theresa Villiers as Secretary of State for Environment, Food and Rural Affairs, a post she had only held since July 2019. Her replacement is George Eustice MP for Cambourne and Redruth. From a farming background whose family still run a fruit farm and shop at Trevaskis Farm, Hayle near St Ives. Mr Eustice has served in government in various junior ministerial roles in DEFRA since 2013 under David Cameron. One of his first tasks will be seeing the current Agriculture Bill through parliament, which may have impact on future fertiliser use.
Blast from the past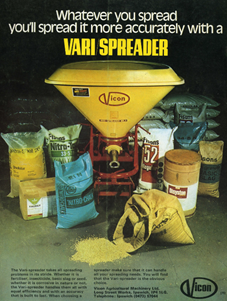 Economic Data as at close on Friday 14th February v (7th February 2020)£ = $1.3047 ($ 1.2885) £ = € 1.2046 (€ 1.1773)   Crude Oil = $ 57.32 ($ 54.47) Natural Gas = $1.84 ($1.86)Please treat pricing on graphs as a guide, please use quote request form for an up to date price.