Nitrogen Management
At the time of writing, areas in southern parts of the UK had received some useful rain. However, the underlying trend this spring so far has been dry. Yara UK Agronomy Manager Mark Tucker recently published a useful video entitled 'Nitrogen management in dry springs' Yara has extensive historical data to draw on regarding Nitrogen responses in dry springs from the past. This knowledge is key to help make decisions today. To view the clip, click on the following link:
https://www.youtube.com/watch?v=YSMPGN2pn30&t=3s
Nitrogen Webinar
Staying with Yara, and they are keeping up their excellent recent work with live on-line webinars, the next in the series is entitled 'Why Straight Nitrogen Isn't Always the Best Option'. With new season not too far away Mark Tucker and Natalie Wood take us through what should be considered when purchasing fertiliser for the year ahead, subjects covered will include; Sulphur management; P&K management; Product Quality; Spreading and a Q&A session. The webinar will be held on Thursday 7th May and will have two live screenings at 2pm and 7pm. Click on the link below to register:-
https://www.yara.co.uk/crop-nutrition/news-and-events/events/2020/new-season-nitrogen-webinar/
Phosphate & Potash
Good demand is being seen currently for both Phosphate and Potash. Phosphates are excellent value at present. DAP (18N 46P) is around 20% below the level from this time last year, TSP (46P) is circa 18% the level of late April 2019. Phosphate levels dipped in January and the trend below shows prices creeping up. This time of year is a good time to apply maintenance dressings of P & K, but even if applied in the Autumn with competitive pricing at the moment it could be worth taking some cover.
Phosphate & Potash Prices 2019 – 2020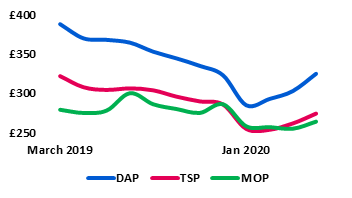 BASIS CPD Points
BASIS have relaxed rules on CPD points collection for 2019/20. The pragmatic decision has been taken to extend the year end to 31st May 2021. The only stipulation is that the full requirement of points for the 2019/20 points-year and 2020/21 points year are fulfilled for both years combined.
---
Economic Data as at close on Friday 1st May v (24th April 2020) £ = $1.2461 ($ 1.2370) £ = € 1.1390 (€ 1.1432) Crude Oil = $ 26.06 ($ 21.44) Natural Gas = $1.97 ($1.75) Please treat pricing on graphs as a guide, please use quote request form for an up to date price.