Urea
Global Urea prices were weaker last week, this despite MMTC (Metals and Minerals Trading Company of India) publishing a purchase tender on 30th April. This tender which the trade expect between 750k and 1M tonnes to be purchased has evidently received offers for over 2M tonnes of product. This clearly highlights some element of over-supply to the market at this current time. Some UK shippers and merchants have attempted to 'kick-start' a new season Granular Urea market in the UK, however the response so far has been somewhat muted. Growers overall seem very focused on the crop in the ground, especially spring cropping, and possibly looking at cash-flow challenges for Quarter 4 of 2020. Early price indications are that the market is around 15% lower than the starting point of 2019-20 season, and just over 20% below the peak of last season. Whether this is enough to tempt early buyers remains to be seen, however a hint of caution if waiting for significantly lower levels is that if prices on world markets drop much further, those producers that pay the most for their gas can shut-down or idle production if prices become too low for them. Canadian business Nutrien, the company that claims to be the largest provider of crop input, services and solutions recently announced that one of its ammonia plants in Trinidad would be shut-down for three months in response to the current pricing in the market. Trinidad is seen as one such high-cost producer.
Yara Nitrogen Webinar
Yara's series of highly informative webinars continued last week, with 'Why Straight Nitrogen Isn't Always the Best Option'. With no events taking place this year to discuss options, these on-line events are vital. One of the key messages in this latest session was how to integrate P, K and S into new season fertiliser strategy. All too often in the buzz of new season nitrogen markets, planning and thinking about these other essential nutrients gets forgotten. Mark Tucker and Natalie Wood take us through the decision-making process and consider product quality and ammonia emissions. This and other webinars are available to view, just click:-
https://www.yara.co.uk/search-results/?q=webinar
ABP mark V.E Day
Ourpartners ABP marked V.E day with this image at the Port of Ipswich using fertiliser bags.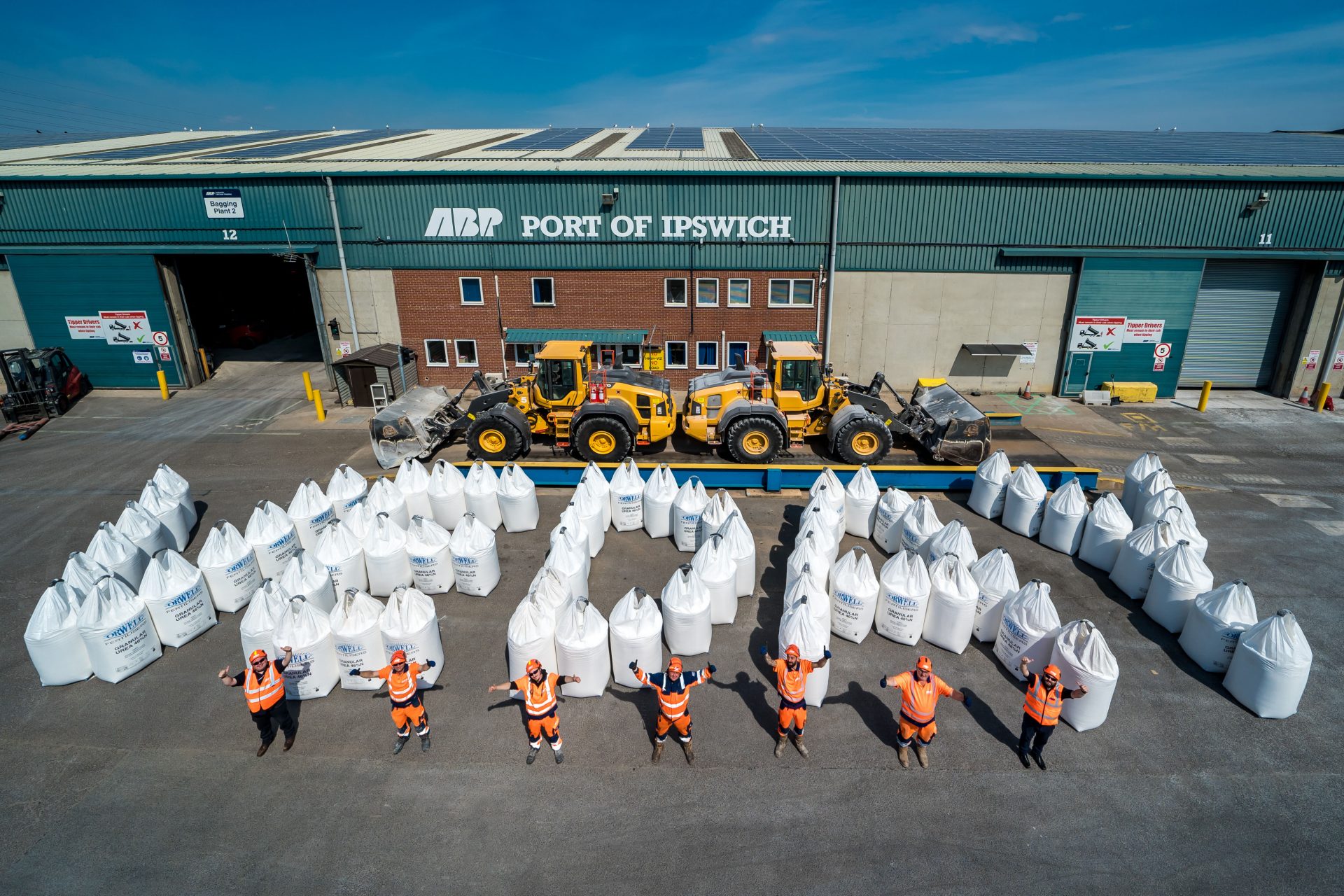 ---
Economic Data as at close on Thursday 7th May v (1st May 2020) £ = $1.2407 ($ 1.2461) £ = € 1.1446 (€ 1.1390) Crude Oil = $ 30.97 ($ 26.06) Natural Gas = $1.82 ($1.97) Please treat pricing on graphs as a guide, please use quote request form for an up to date price.