---
Wheat Flags
Influence on wheat prices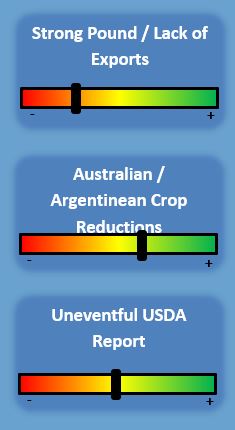 13/12/2019
As trading volumes begin to tail off into Christmas, markets have drifted lower with a lack of fresh bullish news weighing on international futures markets. Meanwhile, attention in the UK was firmly focused on the result of this week's election.
Activity had also been quiet ahead of Tuesday's USDA report, but the result did very little to inspire direction in US or global markets. There were no changes to US soybean or corn S&D's and whilst there were various adjustments for wheat, it was nothing wild.
On an international front, Argentinean wheat production was cut to 19Mmt which is still larger than the current BOLSA forecast of 18.5Mmt. Also, the Australian wheat crop was reduced to 16.1Mmt which puts the USDA closer to that of ABARE's 15.82Mmt estimate. The market response to these numbers was muted as they had already been priced in.
Supply for the 19/20 season remains plentiful with the potential for Russian exports to feature more strongly in the second half of the campaign. The Russian Government is now reporting a 77.9Mmt wheat crop v's 73.4Mmt last year. Russian wheat featured strongly in Tuesdays GASC tender and won the previous tender in its entirety. This serves as a reminder to EU traders that prices remain capped by the large Russian crop which will continue to be a thorn in the side.
As many of the exit polls had suggested this week's election resulted in a conservative win. The 86-seat majority however was certainly a surprise to many. With significant control of Parliament Boris Johnson can now push to complete Brexit by 31st January 2020. Confirmation of the sizeable victory pushed Sterling significantly higher topping 1.2 v's EUR for the first time since early 2017.
As we move toward Christmas, markets look set to remain quiet with the strong pound eroding London futures price and making fresh export business impossible at these levels. However, the potential for a US/China trade deal could still add some interest if there is a 'phase one' agreement this week before fresh tariffs are implemented on the 15th December. Otherwise, it may be difficult to find a real market driver this side of the new year.
---